Triumphant skin therapy: Organic scrub, mud wrap, and Vichy rain shower.
First, your dedicated therapist informs you about the benefits of scrub and mud wrap and consults with you about your skin needs.  Your treatment starts with an organic body scrub of your choice that exfoliates and gently softens even the most weathered worn skin. Then, the next step is the mud wrap that helps draw out impurities and toxins and moisturizes your skin.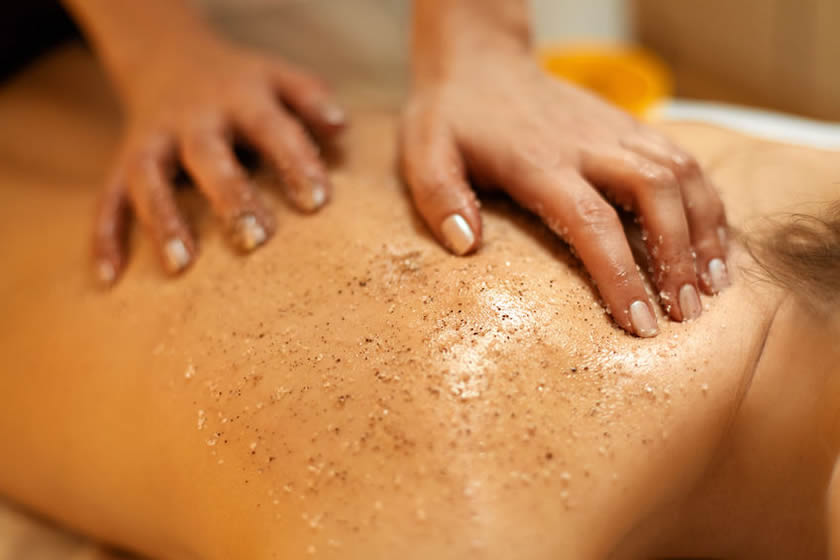 Massage therapy performed by professional therapist at Heed Spa
Finally, you can combine one or both of the treatments with Vichy rain shower therapy. It enhances the absorption of the organic products through the skin system and stimulates body relaxation. Don't forget that the massage technique performed by the therapist is as important as the non-toxic products used to improve results.
Selection of 100% organic scrub products with the most beneficial virtues
Skin that is regularly exfoliated is healthier skin, both in appearance and function. You should think about having it done by professionals, on a regular basis.
Brown sugar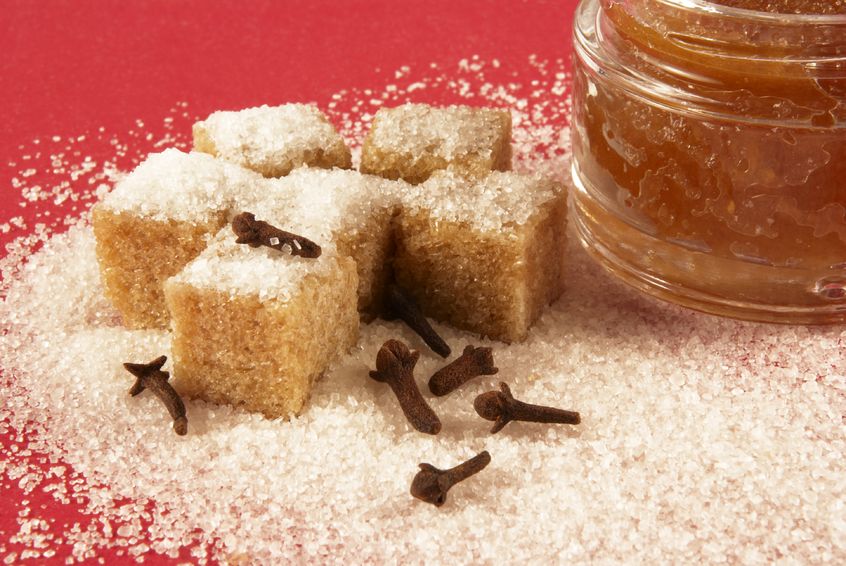 (Organic brown sugar body scrub used at Heed Spa)
Natural brown sugar as skin exfoliator has a lot of benefits. Particles are small and avoid scratches on the skin. Not only the scrub performed will be gentler and safer but it is also strong enough to scrub away all the dead skin cells. Brown sugar can also be used as an exfoliator on the face or for sensitive skin because it is softer than other sugars. It makes way for the healthier, glowing skin appearance to show through and prepare for the mud wrap active ingredients absorption into the skin.  The skin is breathing in good nourishment and expelling toxins. It also glows, is more uniform in appearance with tighter pores, and is soft to the touch.
Organic Cocoa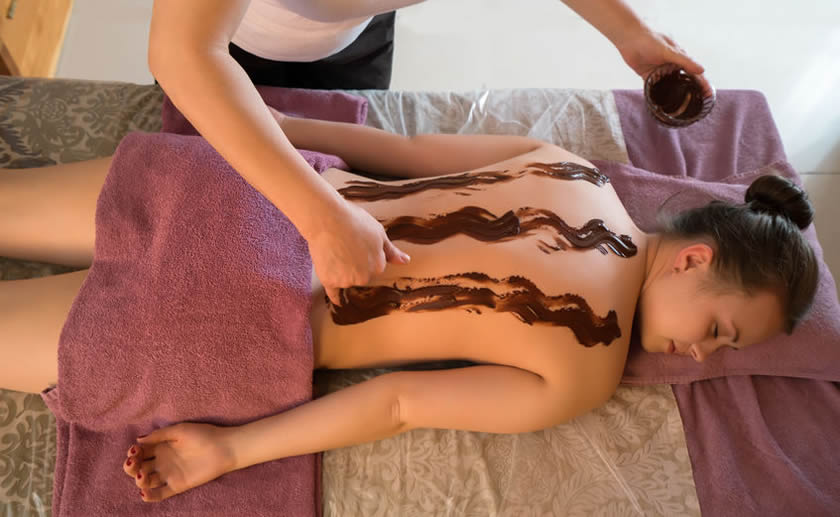 Cocoa is one of our favorite organic scrub treatment at Heed spa. Despite its sweet taste, we all love and its well-known antioxidant properties, cocoa has many other health benefits. In fact, its antioxidants virtues can go to work externally as well. It helps fight against free radical damage that can result in the breakdown of collagen and leaves the skin saggy. Cocoa antioxidants help repair the skin and slow the aging appearance as well.
(Organic cocoa scrub massage for healthy skin)
Cocoa is also a good source of caffeine. While it will give you a rush, when applied to the skin in combination with a deep tissue massage, caffeine can help with cellulite among other skin issues. The cocoa scrub also assists with reducing puffiness and tightening the skin.
When applied externally cocoa is also fantastic for stimulating blood flow. The better the blood supply to the skin, the more active ingredient absorption, and regeneration can happen during the mud wrap.
Also, cocoa is also known for its UV protection properties. As we are a Miami Beach-based Spa, we care a lot about the impact and damage of sun on the skin as it is one of the number one causes of premature aging.
Himalayan Sea Salt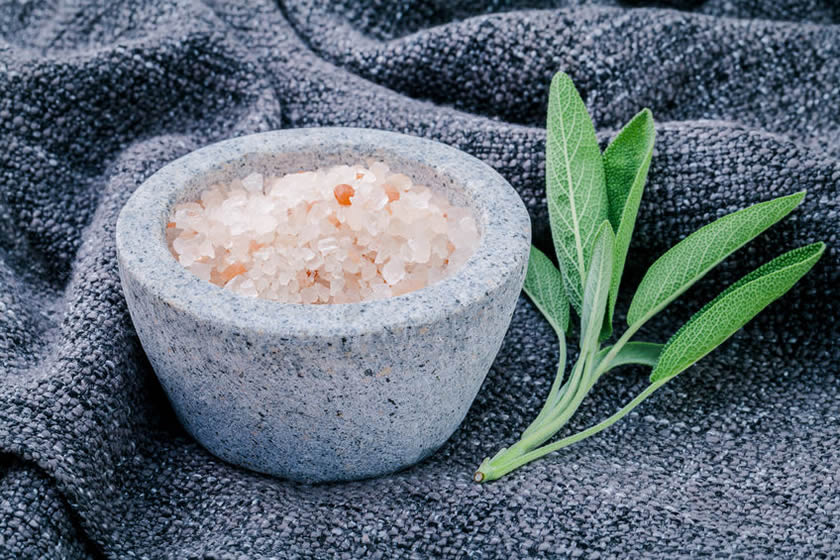 ( Himalayan sea salt scrub for spa treatment)
Because Himalayan sea salt was formed naturally, it has vitamins and minerals perfectly packaged such as in fruits and vegetables. Therefore, the minerals within the sodium work in synergy for higher results and positive impact when scrubbing on the skin using the appropriated massage protocol.
it creates an electrolyte balance that increases hydration
it regulates water content of skin cells
it reduces inflammations
it prevents muscle cramping and regulates blood pressure and improves circulation
it removes toxins and reduces the signs of aging, and helps detoxify the body from heavy metals
it restores a new brightness, smoothness, and vitality to stressed skin and improves skin texture
It is even said to support libido.
Exfoliation with a salt scrub reveals the shiny skin hidden underneath the dead cells. It also allows a better absorption of mud wrap active ingredients into the skin.
Mud wrap: Benefits of Dead Sea mud
There is no longer any needs to prove that the dead sea salt treatment is known for its healing properties. It has offered mud users relief from aching joints, stiffness and skin problems, and remineralization. It is very high concentrated in minerals such as sodium, potassium, magnesium, bromine, and calcium, that are essential nutrients for the body's balance. Mud wrap treatment performing at a spa is highly recommended and beneficial for uneven and tired skins. Mud wrap should always be done after scrubbing the skin to enhance the results.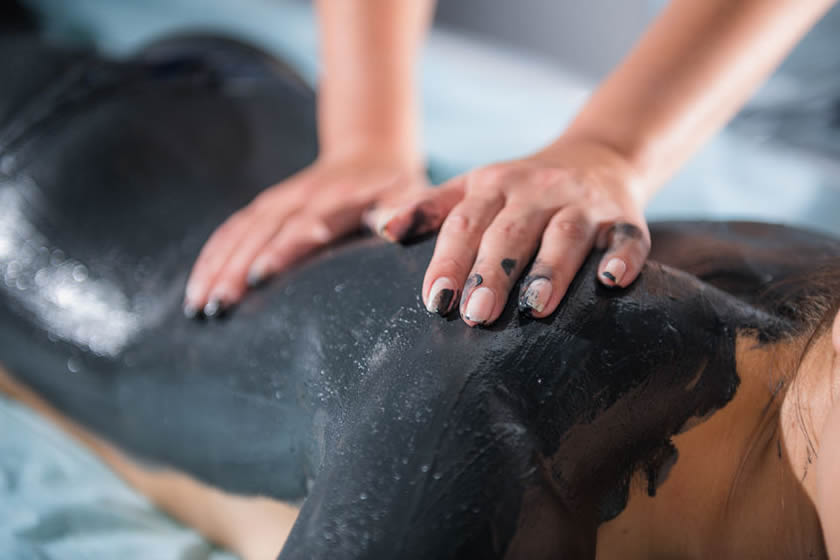 (Deas sea mud wrap treatment at Heed Spa)
Dead Sea mud wrap is beneficial for:
Remineralization and detoxifying: it helps gently exfoliate the skin and draw out toxins and bacteria. It's also great for oily skin and a perfect organic acne treatment.
Skin tone, brightness, and youthfulness as well as cellulite reduction: it stimulates blood flow that helps provide oxygen and nutrients to the cells.
Stress, fatigue, sleeplessness: Dead Sea mud is high in minerals, such as magnesium, sodium, chloride, iron, potassium and calcium, so it gives the skin the nutrients it needs. It is a natural moisturizer and improves the health of the skin.
Acne, eczema, psoriasis, atopic dermatitis, and vitiligo: Dead Sea mud wrap is useful for treating bad skin conditions.
Arthritis, bone and cartilage inflammation and rheumatism relief: Dead Sea mud wrap is therapeutic and helpful in treating sports injuries or recovery from orthopedic surgeries according to the DSRC. It's even useful for relaxing sore muscles.
Trust a professional therapist who performs the right protocol and gestures to maximize the positive results.
The icing on the cake:  Finish with a Vichy rain shower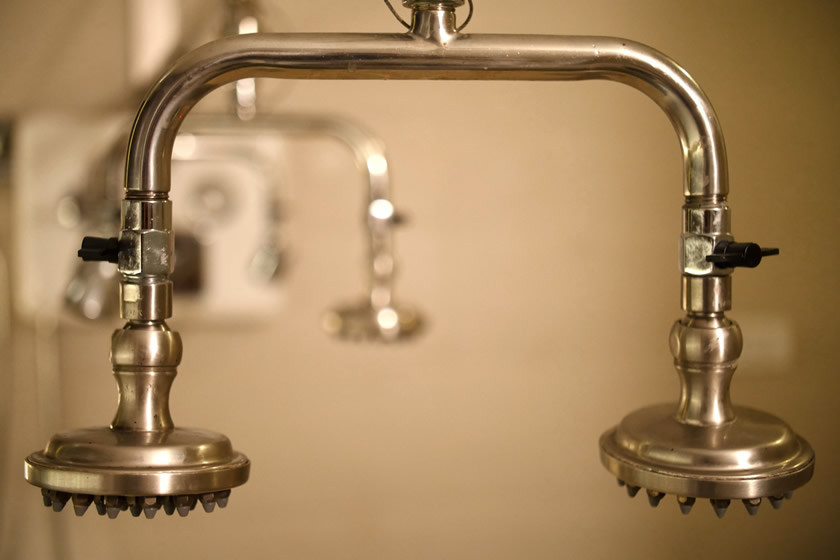 (Heed Spa Vichy rain shower system)
Finish your treatment with a whole-body water massage and reach a flawless skin in a well-balanced mind and body thanks to the Vichy shower movement on your skin. This revolutionary water massage technique is beneficial for:
Boosting the benefits of the mud wrap and nutrient absorption by your skin
Eliminating toxins and improving skin elimination system
Stimulating the skin drawing blood to the surface
Enhancing the immune system
Moisturizing the body through the skin, and improving skin and muscle tone
Minimizing stress response through skin nerve stimulation
Achieve outstanding results by combining scrub, mud wrap and Vichy shower with the best organic products with bespoke massages, protocol, and gesture performed by professional therapists. Give your skin the glow it deserves for a long time.
[vc_row row_type="row" use_row_as_full_screen_section="no" type="full_width" angled_section="no" text_align="left" background_image_as_pattern="without_pattern" css_animation=""][vc_column]
BOOK AN APPOINTMENT
[/vc_column][/vc_row]